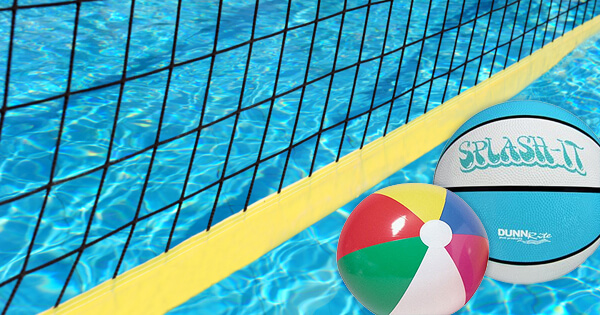 To get more fun out of your pool, you've got to put more fun in the pool! Water Sports games include pool basketball and pool volleyball, but also water polo, pool golf or just a game of catch with a pool ball.
We've got dozens of pool sports games to choose from. To make it easier, here's my favorites in 3 price levels, Budget, Mid-Range and High End pool sports games.
Budget Pool Games

Floating Pool Basketball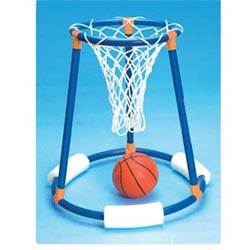 PVC frame is supported by 3 foam segments, to stay floating upright.
A floating basketball game offers 360° play action, and the rim sits 2 feet off the water surface.
Includes mini play ball and poly net as a complete set. $23
Jammin Poolside Basketball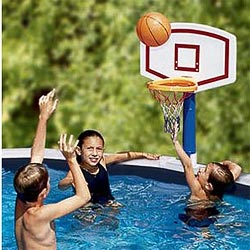 Jammin Poolside Basketball sets are made for serious fun!
We have two versions of the Jammin Poolside Basketball, for both above ground and inground pools.
Adjustable height backboard and rim of thick blow molded resin. $53
Fun Inflatable Goals Game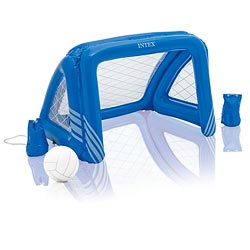 I wish we had these when I was a kid! We got yelled at for using lounge chairs!
Inflatable goal with sand bag weights, and a mini water polo ball.
Take shots on goal in the deep end for extra challenge and exercise. $20
Pro Island Pool Golf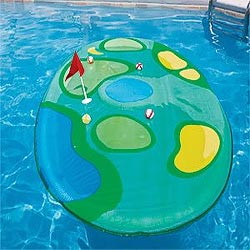 And since we're looking beyond pool basketball and volleyball…
Spring Float design by Swimways is a floating golf green that catches velcro covered wiffle balls (included).
Practice your chip shots onto the Pro Island Pool Golf green. $47
Mid-Price Pool Games

Pro Side LED Lighted Pool Basketball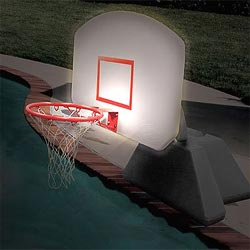 One of the coolest new toys this year, the LED lighted pool basketball game lets the games to continue after dark!
Super tall base, 26″, is filled with water or sand for a sturdy ballast.
40″ backboard, steel rim and nylon net and game ball included. $180
Cool Jam Pro Basketball
Cool Jam Pro by Swimline is a design that stands up to demanding play.
Sturdy footprint, and solid blow molded panels which when full of water, is almost impossible to move.
Regulation game ball and metal rim, with 44″ wide backboard. $200
In Ground Pool Volleyball Game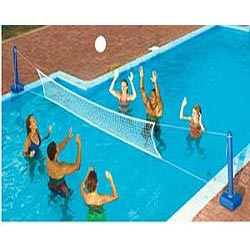 Pool volleyball set includes 2 side bases, a 25′ net and volley game ball.
Just fill up the side bases with water or sand/gravel, string the net across the pool and let the fun begin.
Economical set fits inground pools up to 20′ wide. $75
Pool Volleyball and Basketball Combo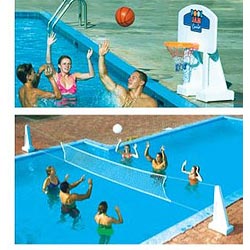 Why choose between basketball or volleyball when you can have both?
The basketball game quickly transforms into a volleyball game with just a few Insta-Snap connections.
Set includes 25′ net and two balls for volleyball, and basketball! $110
High End Pool Games

Splash & Slam Pool Basketball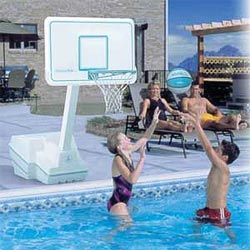 Splash & Slam is the set you see at commercial swim clubs, with the iconic blue rim and pool basketball.
Backboard adjusts from 2- 6 ft above the deck, and 500lb base holds it steady.
Regulation sized 18″ steel rim and game ball with a 3 yr warranty. $850
Deck Mounted Basketball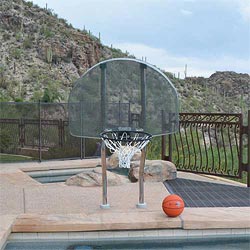 Oooh! Stainless steel support legs and a clear acrylic backboard.
Choose from in-deck for cut-out and concrete repour, or on-deck for surface mounting. Includes anchors and rings.
Backboard and poles can be quickly removed for storage. $700
Deck Mounted Volleyball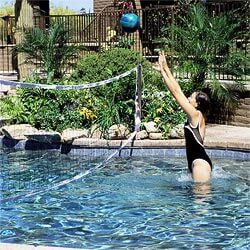 For serious pool volleyball, with a full 16′ x 3′ tournament net, stainless poles.
Choose from in-deck for cut-out and concrete repour, or on-deck for surface mounting. Includes anchors and rings.
Poles can be quickly set-up and removed, or left in place. $320
Floating Golf Green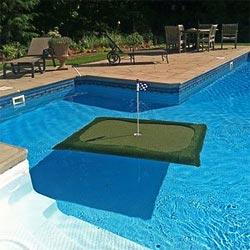 When you graduate from the Pro Island golf game, here's the real deal.
5″ tall green is foam topped with premium synthetic grass, to perform like a real golf green.
Set includes 12 heavy plastic golf balls (no Velcro), tee box and flag pole. $420
---
No matter what your budget is for summer fun, InTheSwim's gotcha covered for pool sports, basketball, volleyball and pool golf!
Even though none of these pool water sports has been added to this year's Olympics, don't let that stop you from using them in your own backyard pool Olympic games this summer!


Davy Merino
InTheSwim Blog Editor
Save
Save