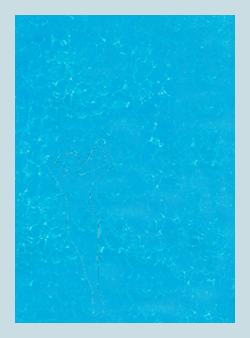 The summer heat is blazing, the pool water is warm, it's the perfect time of year to relax in a pool float or lounger.
So, when my InTheSwim catalog came in the mail, it got me thinking that I need to buy a new pool float for summer!
Easier said than done, we have over 100 floating pool lounges to choose from – how did I narrow down the choice, and choose just one?
Here's how I did it…
PRICE: I had to consider price, first and foremost. Of the 100+ pool floats, there are prices between $9 and $369 ~ so I needed to narrow the range. I decided to buy a really good pool float this year, so I gave myself a budget of $200.
TYPE: To make it easier, I split up the floats into 3 distinct types of pool loungers, and chose two of the best pool floats from each category that were in my price range.
I.    Inflatable pool lounges
II.   Foam chairs and lounges
III.  Pontoon type sling lounges
INFLATABLE POOL RAFTS
Now, I've had inflatable pool rafts before, and most of them don't last a season or two, but we have some really nice inflatable pool floats, so I included two of them into my list for consideration.
Body Glove Dual Lounger
Price: $105   Type: Inflatable
With almost 25 square feet of surface area, this float is huge! Gonna need a big air pump for this one! (ugh).
The best features are the soft combed top surface, and it's jumbo 66″x91″ size. This big float that will keep you (and a friend) high and dry.
AquaSofa Floating Lounger
Price: $125   Type: Inflatable
Another pool float with room to share, the AquaSofa measures 68″ round, and 36″ tall. Comes with matching sofa cushions, carry bag and air pump!
Soft covered vinyl is very comfortable, and raised edge keeps you dry. Great for snuggling!
FOAM POOL FLOATS
Foam pool chairs and loungers are made with a very dense, closed cell foam – virtually unsinkable! Foam chairs are lightweight, never need air, and are very durable, too.
Aquaria Aqua Hammock
Price: $105   Type: Foam
The Aqua Hammock is made with color saturated Aqua Cell foam, and unlike other foam floats with a vinyl coating, will not peel, chip or fade.
49×26″ is the perfect size for me, it's easy to carry and always ready to go. Guaranteed never to sink!
Luxe Sunsation Foam Lounger
Price: $195   Type: Foam
You've probably heard of the 'World's Thickest Pool Float' – it's 2-1/2″ thick vinyl coated closed-cell foam, with built in headrest.
You'll still get wet with this, unless you weigh 98 lbs, but it gives the most floatation of all the classic style foam pool floats. 72″x26″ size.
PONTOON POOL FLOATS
That's what I call them anyway – those type of sling back chairs, with two air filled plastic pontoons for support. Lightweight, durable, and very comfortable, with adjustable back positions.
SunChaser EvaFloat
Price: $160   Type: Pontoon

I'm looking for something a little different, and the EvaFloat combines a high density foam seating area, with two streamlined pontoons.
Frame made of super strong tubes of rolled resin; will never bend, rust or warp. Keeps you mostly above the water, in a comfy upright position. 50″x32″ size.
SunChaser SunSoft Lounger
Price: $150   Type: Pontoon
I think you can see what appeals to me about this float. Super thick padding gives this pool float extra points for comfy-ness!
Made of fast drying mesh fabric and filled with fast drying spun polyester, mated with the SunChaser streamlined pontoons and heavy-duty rolled frame.
Now I had it down to a list of six cool pool floats, and I was still having trouble deciding, so you know what I did? I bought them all!
Just kidding, but I did buy two, and have been very happily enjoying my Aqua Sofa and the Aqua Hammock.
It was only $11 to ship them to my house, and with a 10% Off coupon I found online, I got not one, but two pool floats, with my $200 budget.
Avoid the confusion of over 100 pool floats and loungers. and just choose one of these above for your pool!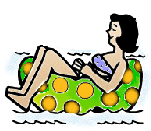 And now, I must return to the pool, to float away the day…


Ida Gonzalez
InTheSwim Staff Blogger