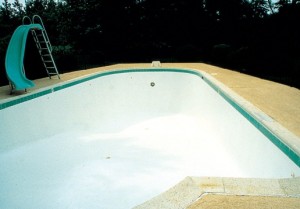 There's nothing like a new coat of paint to freshen up the look and feel of your pool.  Whether you need paint because your pool paint is fading, chalking, blistering, bubbling, or if this is the first time the pool will be painted – this guide will cover it all!
Selecting the proper paint and making sure you have all the necessary tools and accessories can help you avoid the costly complications that may otherwise occur.
In this detailed guide I'll take you through the types of pool paint, the correct type for your particular application, the necessary amount of paint for your pool, surface prep, and tips on recommended accessories to help you succeed with your pool painting project.
Types of Pool Paint
There are three different types of pool paint: Epoxy, Rubber-Based, and Acrylic.  Selecting the correct type of paint for your pool is a combination of two variables: the type of pool surface you have (if your pool is unpainted) or, if already painted – the type of pool paint that was used when previously painted.
If your pool has never been painted before, you needn't worry about using the same type of paint that was used before. Depending on your pool surface type, you can choose from these pool paint options

For previously painted pools, you should use the same paint type used before, or use a water-based acrylic, which will bond to any previous pool paint type used. Here's a chart to help select pool paint, based on the previous coating type used

Epoxy 
Super Poxy Shield epoxy pool paint is our strongest and longest-lasting pool paint. Used in new construction and on pools previously painted with Epoxy pool paint. It cures to a hard and non-porous surface that resists pool chemicals, UV rays, and automatic pool cleaning machines. One application can last 5-7 years.
Rubber-Based Paint 
Envirolon synthetic rubber-based paints are perfect for gunite, plaster, and concrete pools. It is easy to apply and cures to a smooth surface that is easier to keep clean.  No longer made with chlorinated compounds, our new synthetic rubber-based pool paint is low VOC. For those who like the original, our CRC Pro-Series rubber-based paint is an economical standard. Two properly applied coats will last about 2-4 years.
Water-based Acrylic 
Aqua Coat acrylic pool paint can be applied to any type of pool surface, as well as over any of the pool paint types. Since it's water based, it can be thinned with water and even painted over a damp surface. It provides an easy to maintain enamel finish and has the fastest drying time of 3 days. Acrylic paint is best used in situations needing minimal down-time, and low cost. When properly applied, 2 coats should last 1-2 years.
Do I need to use a Primer?

A primer is necessary for the best bond to most unpainted pool surfaces. For acrylic or rubber-based paints, a diluted or full strength first coat will serve as a primer. When painting an unpainted plaster surface with epoxy pool paints, a coat of epoxy primer should be used.
For rough surfaces, bare concrete or gunite, use the gunite primer before using epoxy paints, to fill in and smooth out the surfaces while improving the bond between pool and paint. Steel or aluminum pools require a special primer and process. Contact our pool paint experts for specific advise on these pool types.
How much pool paint do I need to buy?
This is a question whose answer depends on several things – the paint you are using, the amount of required coats, and the square footage of your pool. Once you have added up the square footage of your pool surfaces to be painted, divide that by the square footage / gallon of your type of paint – that will be how many gallons of paint you will need to buy. Remember that you may have to account for more than one coat of paint. Pitted, rough surfaces, and unpainted surfaces tend to soak up more paint per square foot.
Here is a helpful page that will help you calculate your pool surface area.
It's always a good idea to buy at least 1 extra gallon of pool paint than you think you'll need, so that you can paint it completely, all at once. If you fall short of what's needed for complete coverage, the paint won't be consistently applied. As you get close to the end of applying the final coat, you can roll on the pool paint more thickly, to use up excess supply, especially on steps and around the main drain(s).
Pool Painting Preparation
If your pool area is damaged, you will need to repair and fill any cracks, pits, or holes before prepping the surface.
To properly prepare the surface of a gunite or plaster pool, the first step is to safely drain the pool completely. The next step is to remove any invisible grease and oils that are on the surface. Using a flower watering can and a scrub brush, wash the surface with a Tri-Sodium Phosphate (TSP) solution, and scrub well. Rinse thoroughly.
After the surface is degreased, you are ready to remove mineral deposits and "etch" the surface. Diluted muriatic acid can be used, or use our easier and safer Sulfamic Acid cleaner. Etching the pool surface gives the new paint a rougher surface to adhere to. TSP and Acid can be purchased separately, but are conveniently sold together as part of our Surface Preparation Kit.
Fiberglass pools will require sanding (the entire pool) with coarse sandpaper, instead of acid etching; followed by cleansing with TSP, as described above.
Before painting, clean off the deck surrounding the pool, to prevent debris from blowing in the pool. Check the weather; no rain or high winds in the forecast. And, on all paints except Acrylic, you will need several days of drying time before and after painting the pool.
Pool Painting Supplies
3/8″ nap paint roller, frame and extension pole
Paint roller pan or bucket with grill
Paint mixer drill attachment
Trim brushes for corners
Painter's tape for tile line, lights, wall fittings
White sand for non-skid step areas
You can purchase these items separately, or you can just take the easy route and order one of our Pool Paint Application Kits.
OK, that's enough information to get you started. Painting your pool is a quick way to improve the appearance of your pool. In most cases, you can paint your pool for less than $1 per square foot! Take a look at all of our pool paints and pool painting supplies, and start planning your pool painting project!

Martin Ratchev
InTheSwim Staff Blogger