It's the time of year when many of us are gearing-up to take a vacation somewhere warmer, some place with a beach or certainly, somewhere with a swimming pool. It's usually not until you reach your destination and are standing at water's edge, slathered in sunscreen, when it hits you, "I wish I had a pool float."
Shortly after the pool float epiphany comes the harsh realization that buying a pool float from the hotel gift shop is painfully more expensive than back home. Make this the most prepared you've ever been for a vacation and take a look at some of the best pool floats to pack with you on your next trip to paradise.
First up, let's take a look at some fun inflatable pool floats that are fun for the kids and any fun-loving adult on vacation and free from the shackles of everyday life:
You may be thinking – how the heck am I supposed to pack THOSE into my suitcase?  These cool pool floats are vacuum packed into a box about the size of a small toaster.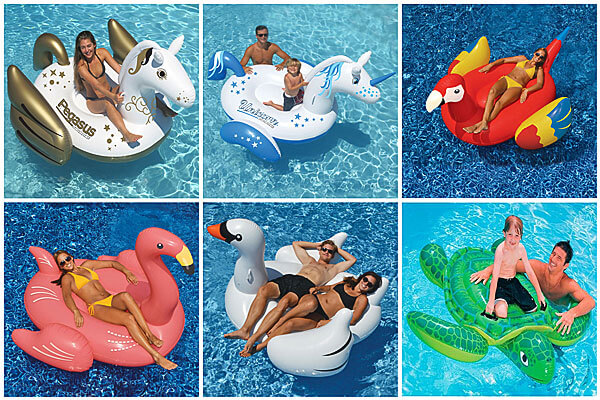 Whether you want a Pegasus pool float or a Unicorn pool float, or for you Parrotheads or lovers of Giant Flamingos or those who want to lounge on a majestic Swan Pool Float – these giant floats are all about 6' wide and perfect for one lounger or two kids ready to launch their imaginations into the water. What says I'm on a tropical vacation like sprawling out on a giant, inflatable parrot, flamingo or Sea Turtle? Nothing. That's what.
Of course, smile-inducing inflatable spectacles like a white swan float aren't exactly for everyone. Let's take a look at some of the more understated but equally enjoyable floats you'll be glad you brought with you on your next sunny vacation.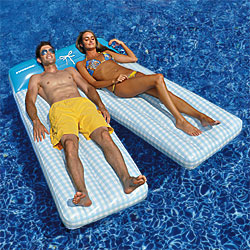 Avoid drifting apart and stay attached at the uh, seams, with this Board Shorts Double Lounger float built for two in the shape of a pair of board shorts. This is another great example of a large float in a small package but for those who are especially cramped for space in their luggage the Color Brite Pool Float is as easy on your suitcase as it is on your wallet. These $9 pool rafts are available in a variety of color options and come in flat packages that take up no more room than your swim suit.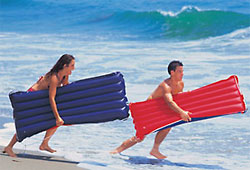 The Large Inflatable Canvas Surf Rider is the big brother of the Color Brite pool rafts but built to stand up to ocean surf thanks to its durable canvas construction. Whether you are hitting the waves or just have children that play rough in the pool, Canvas inflatable rafts are tough, built-to-last and take up about as much space as a sweatshirt when deflated.
Another fantastic, space saving option is the Premium Pool Floating Hammock, shown below. The headrest and leg rest both inflate and the hammock is made of canvas.  It's folds up to about the size of a pair of jeans and inflates quickly without the need for a pump.  You could easily pack several of these nifty hammocks in a carry-on bag.


If you are traveling with children, Cruz the Stingray and Sandy the Crab are Seaside Riders, a fantastic pair of floats, that actually work triple-duty as a fun stuffed animal companion as well an incredibly comfy pillow. These floats are made from a stretchy, durable mesh fabric (similar to spandex) and they don't absorb water thanks to thousands of ultra-buoyant foam beads which keep the kids afloat or keep them comfy and asleep.
And if you are traveling with a toddler another great idea to bring with you is the Aqua Coach Baby Buoy Float. It features a dual chamber, harness-like seat to help keep your little one secure without the worry of tipping, and it also includes a comfy, supportive backrest. Safety and fun, all-in-one, baby pool float – a perfect combo for parents vacationing with babies or toddlers.
Whether you are cramped for space and are packing the compact Color Brite floats or are ready to spread your wings and fly on a giant inflatable Pegasus, don't turn blue in the face trying to inflate these floats with your own breath. Save your breath for snorkeling and don't forget to pack a compact air compressor or pump.

There are several options from the Inflatable Pool Toy Foot Pump (about the size of a shoe) and if you prefer a more electric means of inflation there is the ultra-compact Battery Powered Pump or the fast-working, AC-powered Intex Quick Fill Electric Pump that you can plug into any outlet in your hotel room and is also great for air mattresses.  Now you are packed and ready to go!
Do you have go-to fun inflatable pool floats that we missed or a story about a vacation where a float saved the day at the pool?  We'd love to hear from you in the comments section or by dropping us a line at: socialmedia@intheswim.com.


Dana Katz
InTheSwim Staff Blogger