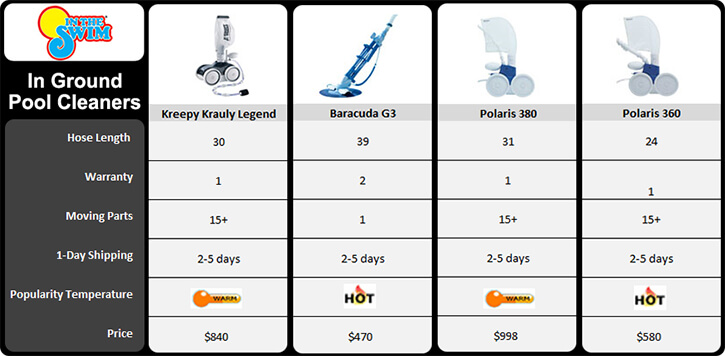 I'm often asked "What's the BEST pool cleaner?" by friends and more often by customers. Quick question to ask, yet a quick answer is hard to give.
That's because there are over 100 automatic cleaners for pools; how do you choose the best pool cleaner from among so many different models?
You read reviews of pool cleaners, that's what you do, and see how others have rated them. On InTheSwim.com, we have 1000's of pool cleaner reviews.
To save you from reading 1000 reviews, I've curated a list of the top rated pool cleaners, or 10 pool cleaners with the best reviews.
Ladies and gentlemen, I now present the 5 highest rated aboveground cleaners and the 5 highest rated inground cleaners. May I have the envelope please?
---
Aquabot Pool Rover T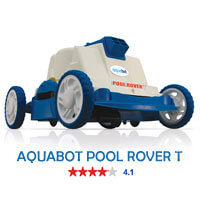 Aquabot Pool Rover T is a Robotic pool cleaner with a powerful vacuum that also filters your water as it cleans the pool. Self contained filter bag collects debris of all sizes, down to 2 microns. Self contained pool cleaner does not rely on, nor connect to your filter system, but works independently, under any conditions.
4.1 Star Reviews for Aquabot Pool Rover T
---
Hayward Aqua Critter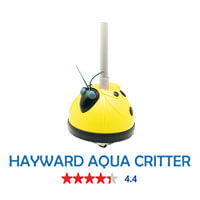 Hayward's Aqua Critter Suction cleaner connects to your wall fitting or skimmer for fast, programmed vac action. Patented Hayward SmartDrive programmed steering system ensures the entire bottom of the pool is cleaned. Aqua Critter has the same sturdy design as the Aqua Bug, only cheaper!
4.4 Star Reviews for Hayward Aqua Critter

---
Hayward Penguin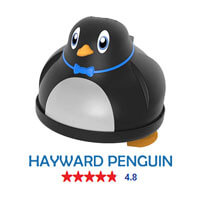 Hayward's Penguin Suction cleaner is even more affordable than the Aqua Critter and uses the same patented SmartDrive programmed cleaning pattern, spinning around the pool like a whirling dervish. Cleans most aboveground pools in 90 minutes, and one review says that the Penguin keeps the ducks out of the pool!
4.8 Star Reviews for Hayward Penguin
---
Kreepy Krauly Lil Shark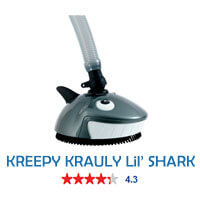 The Kreepy Krauly Lil' Shark is a renamed Sta-Rite Lil' Shark, but the Pentair Suction cleaner has the same high performance. Brushes and vacuums any above ground or on-ground pool using only one moving part, ensuring years of top-quality performance and reliability. Like all ABG suction cleaners, Lil Shark includes 32′ of hose.
4.3 Star Reviews for Kreepy Krauly Lil Shark

---
Polaris Turbo Turtle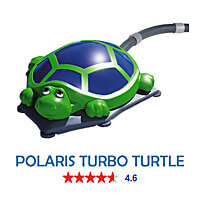 Polaris Turbo Turtle stands out in the crowd, as the only Pressure-side cleaner for above-ground pools. Instead of connecting to a skimmer or suction port, Polaris 65 and Turbo Turtle models connect to the wall return fitting, which propels the cleaner on the surface, while dragging a jet-powered debris bag around the pool floor.
4.6 Star Reviews for Polaris Turbo Turtle

---
Aquabot Junior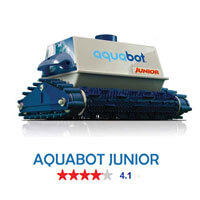 Aquabot Junior uses advanced Robotic technology in a smaller design for pools up to 40′ in length. Scrubs and vacuums your pool, and filters 4800 GPM of pool water through the fine mesh filter bag, trapping invisible particles down to 2 micron in size. Cleans any residential pool completely, in under two hours.
4.1 Star Reviews for Aquabot Junior
---
Hayward AquaNaut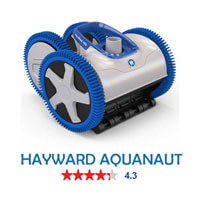 The Hayward AquaNaut Suction cleaner can handle any shape and size pool without clogging or stalling. AquaNaut features V-Flex™ technology, patented self-adjusting variable vanes that automatically adjust to allow for any size debris to pass through. A speedy cleaner that gets the job done every time.
4.3 Star Reviews for Hayward AquaNaut 
---
Hayward SharkVac XL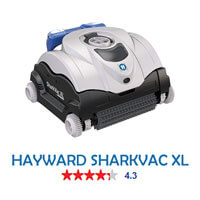 Hayward SharkVac XL Robotic cleaner uses TigerShark technology in a sleeker package. Top load filter is easy to access dual pleated filter cartridges. No messy debris bag, just hose cartridges and caddy clean. Compact and lightweight cleaner even senses shallow water level, allowing operation for a beach front pool entry.
4.3 Star Reviews for Hayward SharkVac XL 
---
Pentair Kreepy Krauly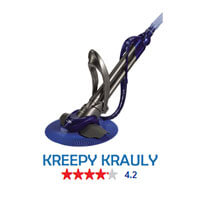 Kreepy Krauly Suction cleaners tackle every area of your pool including the tile line, walls, and floor. Millions installed across America, the Kreepy Krauly has legions of fans. One moving part makes the Kreepy the simplest cleaner in design, installation and operation. Works best with a strong pump to provide enough suction.
4.2 Star Reviews for Kreepy Krauly 
---
Polaris 380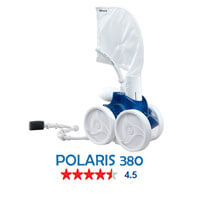 Polaris 380 is the flagship Pressure cleaner from Zodiac. Installed on Millions of inground pools, Polaris 380 cleaners use a booster pump to ensure consistent pressure to the cleaner. Operates independently from the filter system, and turns itself on and off. Best cleaner for heavy debris, but requires a dedicated plumbing line.
4.5 Star Reviews for Polaris 380 
And there you have it – our top-rated pool cleaners, or the pool cleaners with the best reviews. Our rating system is managed by BazaarVoice, so you can trust that they are verified reviews, written by real pool owners, just like you.
If you have questions about which pool cleaner to choose, or which of the over 100 automatic pool cleaners is best for your pool, see for yourself which pool cleaner has the best reviews, or leave me a comment below detailing your pool, plumbing and equipment – I answer them personally!


Davy Merino
InTheSwim Blog Editor