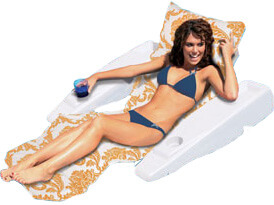 In his best Texas accent, our warehouse manager told me – "We got 9 kinds of pool floats!", when I went to check on our stock of pool floats and lounges, as research for this Buyer's Guide.
We actually have many more than "9 kinds of pool floats" but I liked his way of putting it – so I have grouped some of our most popular pool floats into nine different categories.
Pool chairs and loungers are available in a huge assortment of colors, styles and price ranges; you're sure to find the perfect pool float somewhere in my list below!
Cheap Pool Floats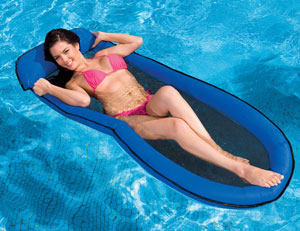 Depending on how you would like to use your pool float, you may like something basic like this Mesh Lounge or the equally comfortable Bubble Chair, which can also be used inside.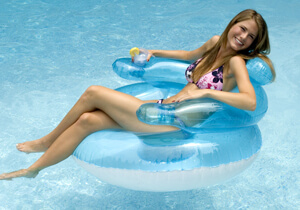 These one person floats are simple and yes, you could call them cheap pool floats. Let's just say that they let you relax in your pool without worrying that you spent too much on your pool float. The affordable choice in basic pool floats.
Double Pool Floats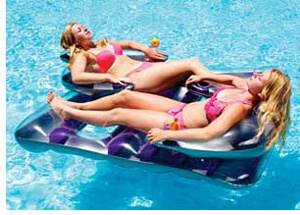 Enjoying your pool time with a friend or sweetheart makes double pool floats an ideal choice. Our Double Pool Floats position two swimmers face to face to provide comfortable lounging and maintain an enjoyable conversation.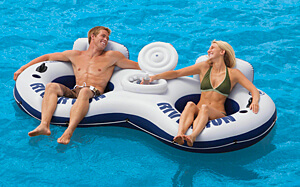 Our River Run II float is another pool float built-for-two with additional features like a mesh bottom to keep you cool and a built-in cooler to keep your beverages chilled and handy.
Fun Pool Floats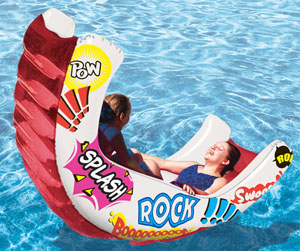 For those of you who are looking for a fun pool float, check out the Aqua Rocker Pool Float that allows two active swimmers to rock back and forth in total style.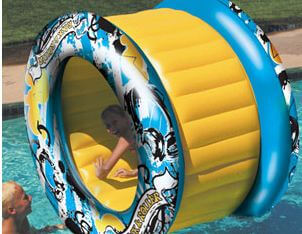 Along with the Aqua Rocker, we also have the Aqua Roller Pool Float that's guaranteed to bring fun and laughter to your pool. And a little bit of Rock and Roll.
Party Pool Floats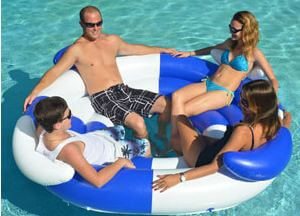 Chances are – if you have a pool, you will probably throw a pool party at some point in time – so you may be interested in knowing that we carry a large selection of pool party floats. Accommodates up to 4 adults and are perfect for pool parties.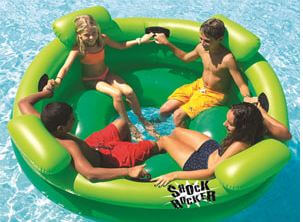 The Sofa Island Pool Float and Shock Rocker are perfect when a family or friends want to chill out in the pool together.
Floating Pool Habitats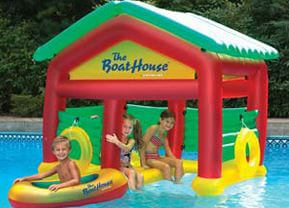 And of course we do not want our young swimmers to feel left out, so we have kid pool floats like the Inflatable BoatHouse that includes it's own starter boat!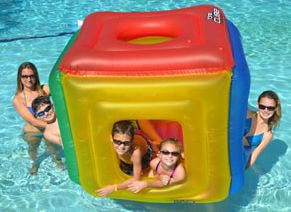 The Inflatable Cube is one of our more popular inflatable fun houses. The cube  can keep young guests of a wider age range entertained for hours.
NBA Pool Floats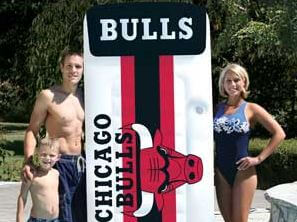 We all know sports are an integral part of our lives so we have just the selection for the sports fans. Celebrate your favorite NBA team in style with our NBA Pool Mattress.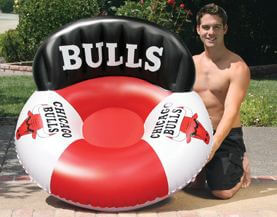 The mattress can double as an indoor overnight guest bed and the NBA Pool Chair is great for kid's rooms or your sports den. 20 teams to choose from, including your NBA team! Impress your friends with your fan-atical spirit!
Tanning Pool Floats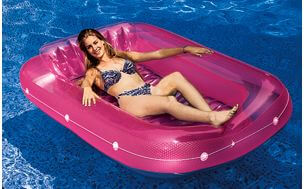 Relaxation and tanning can go hand in hand when you use the Tan Dazzler Pool Float or Island Sun Tan Lounger both of which let you catch the rays in style and comfort.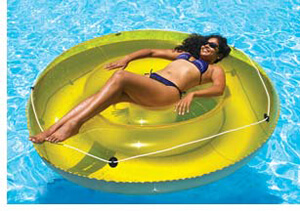 Read a book, listen to music, or just shut your eyes and relax while you get a great tan on these luxurious floats. Sun tan floats keep you dry, and capture more sun to reflect the rays back onto your skin.
Animal Pool Floats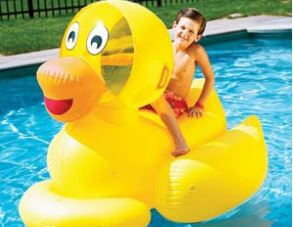 As you know, we at In The Swim never forget about our very important young swimmers and offer a large variety of pool floats and chairs just for the little ones.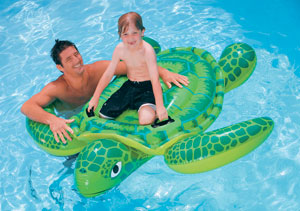 Our Giant Inflatable Ducky, or Sea Turtle Ride On will keep your young swimmers engaged and entertained in the pool without any complaints of them getting bored.
Baby Pool Floats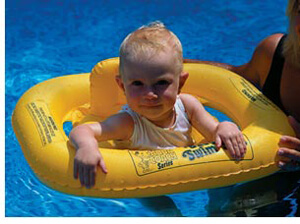 And for our even younger swimmers, we have floats like Aqua Coach Baby Buoy Float and the Baby Bopper Baby Seat Pool Float that will let your baby be a part of the aquatic action.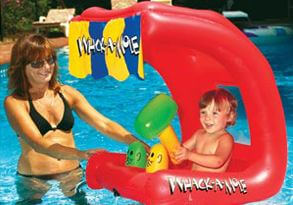 Both have comfortable leg holes, with a sturdy undercarriage. As with all inflatable baby pool floats, make sure you're close by at all times.
So whether you are looking to relax in the pool by yourself or want to spend time with friends and family, we have 9 kinds of pool floats and chairs to meet your individual style!
With the Holidays right around the corner, the perfect pool float can make the perfect gift! I hope someone buys me one!


Ayesha Aslam
InTheSwim Staff Blogger